Sara Low
Victim of the September 11th Terrorist Attacks
This page is a memorial to Sara Low, who died at the hands of terrorists in the first plane to strike the World Trade Center. Sara was the sister of a good friend of mine, Alyson Low. My heart and greatest sympathies go out to the Low family for their loss. The pain I feel is almost beyond words, and I cannot begin to imagine what they have been through over the past few weeks.
I only had the privilege of meeting Sara two or three times, but she seemed to me then to be an extraordinary person, full of life, interesting and exceedingly kind.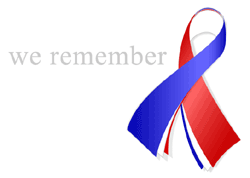 May justice be done for her and the thousands that died with her.
What we witnessed was not part of Islam or the will of Allah. Rather, it was the rearing of a terrible evil, one we will be facing for years to come. The Koran defines what awaits those that have brought this evil upon us:
Surely Allah enjoins the doing of justice and the doing of good (to others) and the giving to the kindred, and He forbids indecency and evil and rebellion; He admonishes you that you may be mindful. -Koran [16.90]

Allah does not forbid you respecting those who have not made war against you on account of (your) religion, and have not driven you forth from your homes, that you show them kindness and deal with them justly; surely Allah loves the doers of justice. -Koran [60.8]
I can only offer the following poem as indication of my feelings:
The Sobbing Of The Bells
Walt Whitman

The sobbing of the bells, the sudden death-news everywhere,
The slumberers rouse, the rapport of the People,
(Full well they know that message in the darkness,
Full well return, respond within their breasts, their brains, the sad reverberations,)
The passionate toll and clang -- city to city, joining, sounding, passing,
Those heart-beats of a Nation in the night.
---
News Stories About Sara Low:
Jonesboro Sun
Commercial Appeal (Memphis)
MSNBC
Batesville Guard Online | 2 | 3 [free reg. required]
Arkansas Democrat-Gazette [reg. required]
---
©1996-2020 • All Rights Reserved | dedicated to Sara Low