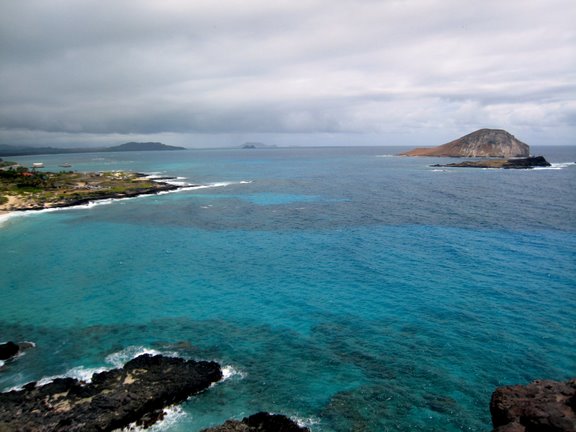 Kath and I made it to Honolulu yesterday evening, after traveling all day from Memphis. All is well, and we are currently ensconced on the North Shore, waiting for the big waves that will never come, at least not this month. (Because this is summer… Idiot… Idiot…) All of the big waves come in the winter on the North Shore, but that didn't stop us from enjoying it. In fact, due to the largely empty, placid beaches, we probably enjoyed it more.
No, actually, I knew that the waves would be calm on the North Shore before we booked. I just wanted away from the hectic 4-day package crowd down in Waikiki, and the (relatively) isolated North Shore seems just the ticket. Plus, it would be a great place to escape to after a long day.
However, I'm getting ahead of myself… First, I have to tell you about the generosity and hospitality of Jeff and Katy, who shepherded us from SFO to the ferry terminal for a superb meal.
Well, actually, I need to step back and thank Stephen for taking us to the airport early on the 3rd. The man has a car in the shop, yet he still found the time to get us to the airport on time. A true friend…
Jeff came and met us at baggage pickup at SFO, but we really didn't have any baggage, since all our luggage was already checked through to Honolulu. Instead, we could focus on chatting with Jeff, and Katy met up with us down at the ferry terminal so that we could all share an enjoyable meal. Jeff took us back to SFO in time for our next flight, and we continued one of our longest days (at least, by timezone switching), ending up with a rental car at Backpackers Hawaii with a key in an envelope in a drop box. We saw nothing terribly beautiful on the darkness that had already enveloped Oahu.
On July 4th, we determined to take advantage our limited time on Oahu and quickly circled the island, ending up near enough to Waikiki. We saw some amazing things, particularly on the "windward coast" (facing the trade winds), in northeast Oahu. There is still something of the spirit of the old Hawaii on these islands, if you know where to find it. The trouble is, though, that the spirit is gradually getting harder and harder to find… (Thanks, Turtle Bay Resort… and Waikiki…)
After several cramped and long hours in Waikiki trying to get a contrast to the rest of the trip, Kath and I made it back to the car (we had to stash it at a mall, as there didn't seem to be on free parking spot anywhere on Waikiki) to prepare our getaway. Being July 4th, everyone (and, by that, I mean almost everyone) would be near the water.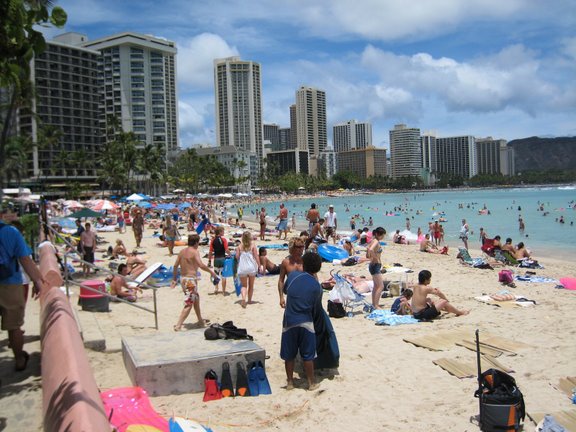 We rushed back from Waikiki to make an excursions with some of the folks from Backpacker's Hawaii. Basically, we could not pass on a a July 4th celebration, Hawaii-style. Bar-b-que, fireworks, and good conversation was held at the Schofield Barracks at the center of Hawaii, and after showing ID to the MPs, we were allowed into what is basically a military stronghold complete with pretty stiff protection. And we did not fit in (but that didn't matter) … 🙂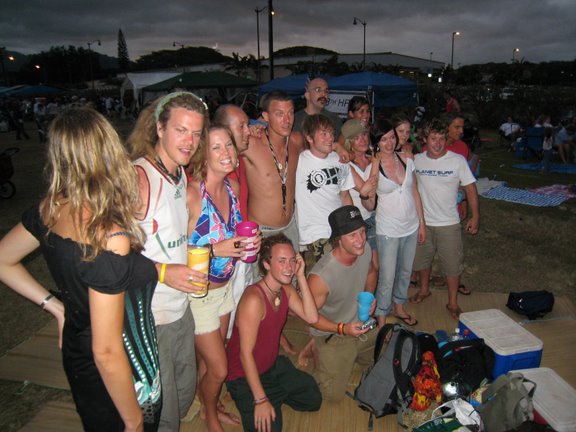 Thanks to Craig, Brian, Josh, and everyone else at the hostel for inviting us along and allowing us to celebrate the 4th with them. It was a blast!