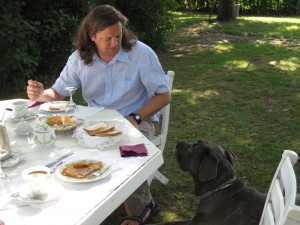 Yesterday, after a wonderful breakfast outside, overlooking endless rows of grapes, we left our base of the farmhouse near Montepulciano and headed into the countryside, letting the Fiat Panda point us to where it wanted to go. We wandered north, close to Siena, stopping along the way to buy groceries at a local market and eating a picnic lunch in a park in the tiny hamlet (far off the tourist path and with a name I have to look up when I get back to the States). Walking through the town, we happened into a tiny, empty 13th-century church containing exquisite art – and no tourists in sight.
After that, we tasted (and bought) some wine at a local estate and moved on to Montalcino, where we ate sorbetto and walked the town, taking in the views of the valleys below in the changing colors of the afternoon light. Next, it was over the mountains and down to Pienza for a late dinner (gnocchi with pesto for Kath and lamb for me).
Today, we made a beeline for Siena to experience a larger town. With any town containing more than 2000 or more people, a particular pattern occurs: You park your car outside the city walls and walk up, up, up into the city, and then when you have seen what you have come to see, you try to remember where you parked your car so you can go out the right city gate. The larger the city, the harder this is, as the car parking areas are more crammed with cars, you have to park further away from the city walls, you have to walk further uphill once you get into the city to get to the central square, or piazza, and it can be more confusing to get out.
We saw many interesting things in Siena, including the Duomo (they started a major expansion in the 14th century, but the plague stopped them and they had to later incorporate their work in the surrounding buildings) and the St. Katherine Church. After spending the day in Siena, we drove down to Montepulciano for dinner. The walk from the car park up to the Piazza was exhausting, though, and we couldn't really enjoy a lot of the excellent architecture for being so tired of walking up and down the very vertical town.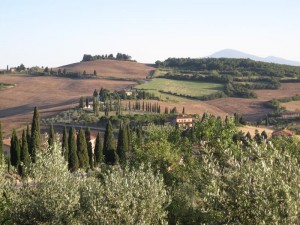 Tomorrow, Florence!