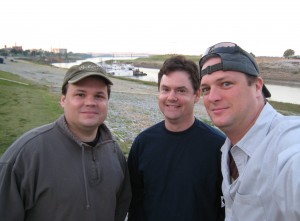 Following in the footsteps of last year's Memphis Walk, in which we treked from the cobblestones at the Mississippi River to the first decent pub we encountered in Collierville, nearly crossing the county in 8 hours of walking, this year we decided to head south. On Saturday, Richie, Robert, and I took off from the cobblestones again, but this time, we headed south, beside the river and then turning inland, down historic Main Street, then down Highway 61 and eventually Elvis Presley Boulevard (Highway 51), ending up in Southaven, Mississippi.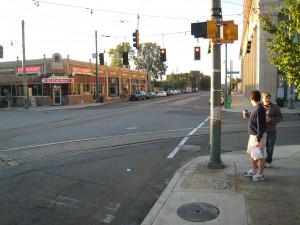 The weather couldn't have been better. Clear, dry, with lots of sunshine, the sky was a glorious blue bowl, cool in the morning but warming to nearly 70 by mid-afternoon, with a gentle northeastern breeze. After setting out at sunrise, the first few miles passed quickly, as we skirted the river along Riverside Drive and then bounced up bluff to intersect with a deserted Main Street and some coffee at Bluff City Coffee. Our eyes freshly opened, we continued down Main Street, past the Arcade Restaurant, to take a left at Carolina (past the Active Bolt and Screw Company – you've got to love that name) and then a right onto 3rd Street, better known as Highway 61.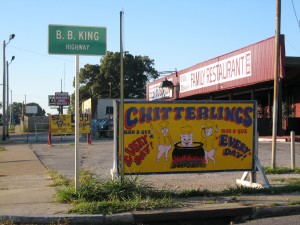 Highway 61 (also known as the B.B. King Highway) is famous around the world as the road that brought famous delta bluesmen to Memphis and points north, eventually making blues known around the world. Today, a large part of Highway 61 doesn't betray much of its properous past, but it is still a very interesting road, featuring a liquor store inside of a metal cage, some burned out restaurants, a massive tire dumping ground, teddy bears tied to a pole, the world-renowned Interstate BBQ (mmmm!), and Nonconnah Creek.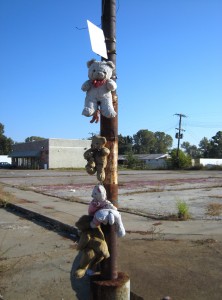 Looking for a more direct shot into Mississippi, we wandered through the industrial wasteland that is Brooks Road (before most of the seedy hotels begin), discovering a carriage house from 1891 that has been covered to a bar, a car dealership specializing in tiny, 3-wheeled work vehicles, a sign that randomly simply stated "Thank You," and a body shop that looked like a converted strip club.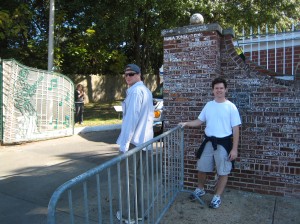 Taking a right and heading south on Highway 51, we quickly entered the home of the cult of Elvis, reaching an apex at the hallowed ground of Graceland, where we dodged tour vans and helped fans snap pictures of themselves at the front gate. Heading further down the road, we entered the surprising prosperous community of Whitehaven, where the busy retail trade resembled anything but a struggling economy. Nearing the edge of Memphis, houses became more recessed from the road, revealing the few remaining spots of agriculture and a kid riding a dirt bike next to an abandoned 98 cent store.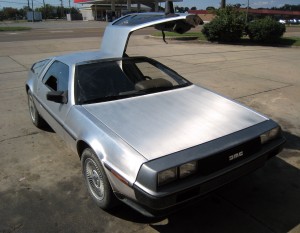 Southaven, Mississippi. was poorer than we imagined, but we still managed to see a few cool things, including a Delorean, a Vixen 21, and a Pacer, as well as a place offering "unclaimed furniture." Taking a left at Goodman Road, we hiked on toward Interstate 55, searching for a place with a decent pint and a place to get off of our aching feet. After some milling around and directions from guys holding up an advertisement across an intersection and talking to each other on cell phones, we finally happened on the Fox and the House Pub and Restaurant, tucked away in a strip mall behind a larger strip mall, where we sipped Red Ale and watched Ole Miss lose to the #2 team in the nation, Alabama.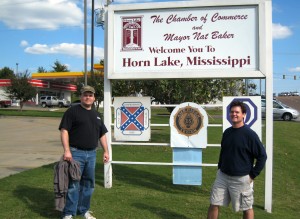 All in all, it was a fun and relatively short walk, only taking 5 and a half hours to walk from downtown Memphis to the Mississippi state line. For most of the walk, there were sidewalks, but every convenience for pedestrians basically dried up by the time we entered Southaven. Every person we met along the way, no matter which neighborhood, was friendly to us, and despite some concern about the possibility of encountering abandoned and wild dogs, we only saw 4 dogs the whole day, and each of them wanted nothing to do with us.
This is a walk I can highly recommend. If you live in Memphis and want to take a really interesting trip without really leaving home, you could do far worse than just picking a direction in the city and heading out with some friends. You will gain a completely new perspective, something you just can't get from a car or a bike, and you might acquire a newer, broadened sense of community and place.