We were unprepared for the Garfagnana region. We thought we were just heading into a more hilly region of northern Tuscany. Little did we know that we were actually heading into some real mountains. Accessible mountains, but mountains all the same. The small community of Piazza al Serchio provides an excellent stepping stone to explore this region, and the tiny nearby hamlet of Petrognano [Google map] contains a nice place to stay while you do it: La Chica, a quaint bed and breakfast.
Unfortunately, we spent too much time taking pictures of the beautiful nature of the area that we never thought to get a picture of our room or the outside of the building. However, the central location of La Chica is one of its best attributes, as it helps to get you keep into the nature of northern Tuscany that is impossible to do if you stay somewhere like Lucca or Pisa or Florence. And vistas like this are just stunning, as you are driving up and around the mountains of the region.
The towns are charming, too. This is Castelnuovo di Garfagnana, a few kilometers down the road from La Chica, where two come together and make their way through the mountains to Lucca. The multicolored buildings were a treat in this place.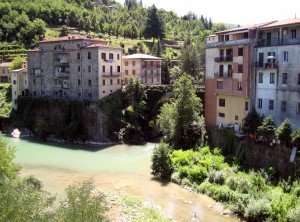 You are also near the Ponte del Diavolo (Devils Bridge), a medieval bridge that spans the river.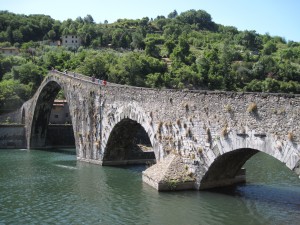 In between the larger mountains, there are serene and idyllic valleys, like this one below Castiglione di Garfagnana.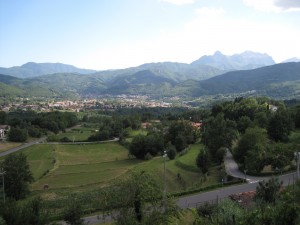 Where there are mountains, there are often lakes, and the Garfagnana region is no different. The Lago di Vagli features great picnic spots, a free swimming pool, and a little town in the center of the lake, surrounded by water.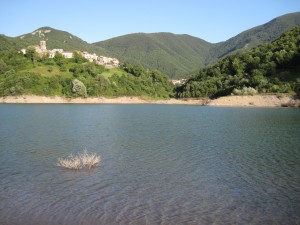 Perhaps the best thing is that you will see very few tourists at all in the whole region, especially non-Italian tourists. There just simply aren't any large buses showing up and disgorging tourists by the hundreds, as you see in Siena or the small towns in the south. You get a real sense of what I came to see as "real Italy" in the Garfagnana region.
The amenities at La Chica are adequate. The owner, Paola Pignatelli, lives nearby and really goes out of her way to help in any way she can. Note that English is more rarely spoken in Garfagnana, so be sure you have a good Italian-English dictionary if you have any special needs.
The room we stayed in was comfortable and larger than the others in the trip, and the bathroom was spacious and clean. Strangely, we never got any breakfast at this bed and breakfast, but this was probably our fault and we didn't mind anyway. We stayed for 3 nights, and for 50€ per night, it was a pretty good deal. Again, you won't be spending much time in your room here. The nature that surrounds you will call you to explore. And you won't be able to resist!
Contact Information:
Bed and Breakfast La Chica
http://www.bbplanet.com/bed-and-breakfast-la-chica-garfagnana-piazza-al-serchio_s11386/en/
beblachica@libero.it
via statale, 9 Petrognano, Italy, 55035
(39) 328 705 9270