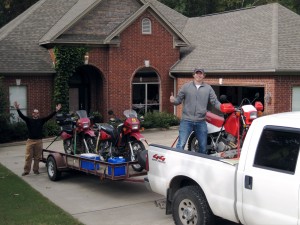 I knew when we turned on to Highway 123 off of 7 that the riding was going to be amazing. Having never spent much time in the southern Ozark Mountains, about 80 miles east-northeast of Little Rock, I didn't really know what to expect. Surely there would be trees, some hilltop views, and some twisty road riding, but it was a mystery just what else we would find.
Boy, was I in for a treat…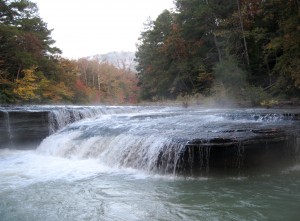 We selected to camp in the Haw Creek Falls campground upon setting out from Scottie's place. This beautiful spot, just off of Highway 123, doesn't provide drinking water, but the camp sites are few, clean, and located right next to the falls and a lovely rushing stream, meaning we fell asleep to the sound of rushing water and woke up to a misting waterfall with autumn red and yellow colors in the background on the surrounding hills. Haw Creek Falls offers some wonderful hiking and is a great location to use as a base for float trips in the area (click here for a pretty good free map), but all we could think about when we arrived was getting the bikes off and hitting the trail.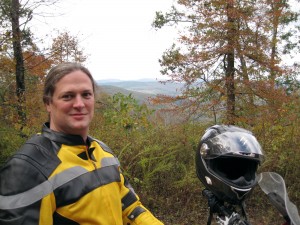 We immediately headed down 123 and found a forest service road (1003) off to the right that took us northeast, into the Ozark National Forest. There are county roads, farm roads, and forest service roads throughout this area, as well as ATV trails, some of which connect to one another and others that just simply end up at some wide spot in the woods. We went down both extensively over all three days, sometimes poking out on a major highway, and other times running into a dead-end at someone's hunting cabin and needing to turn around.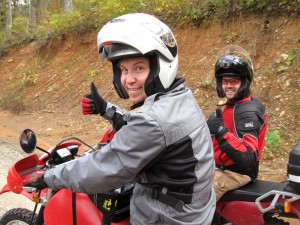 Everywhere we went, there were little streams to cross, ledges to peer over, and straightaways to zoom down. Occasionally, we would run into someone on an ATV, usually carrying a bow (it was bow hunting season), who would occasionally stop for a chat. But, most of the time, we saw no one. It felt like having this section of the Earth to yourself, where some giant painter had dripped color that changed shades as the sun skimmed across the horizon.
The best ride of the day was an accident. Click on this link to see a satellite photo of the area. We crossed this little bridge over Big Piney Creek, and Scottie decided to take a little road up the hill to the left, which is marked on the map as City Road 311 (but the last way I would describe this is as a "city road"). This little windy road took us up above the creek for miles, up and down the little hillsides in the area, but always keeping the rushing creek, thanks to all the recent rain, just to our left. It felt like finding a tiny little gem that no one else knew about. We saw no other human beings or activity for an hour, just falling leaves, a well-maintained dirt road, and the sounds of water rushing over rocks. Perfect.
We only rode for three hours the first day, but it was just enough, and we returned to camp to feast on some chili pie and homemade brownies. It got a little cooler that we would have liked, but we had a big fire, plenty of beer, and even a nip of scotch. And a full day of riding awaited us the next day.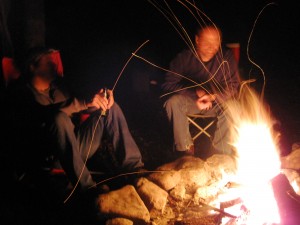 Read on to Day 2 of the ride, or check out all of the photos from the trip here.