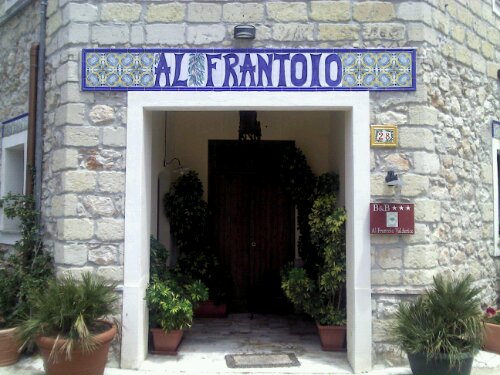 We usually don't write about the places we stay when we travel. Most of the time, they are nothing special, or we aren't their long enough to appreciate the amenities. However, occasionally, we discover a gem that that provides everything: a comfortable place to rest, a strong connection to the local area, and friendly folks to help in any way they can.
In the western Sicilian town of Valderice, just down from the hill from the ancient town of Erice, we struck gold with Al Frantoio, a B&B run by Iolanda and Alberto. The name means "the crusher," as it is located in an old olive oil production facility that dates back to the 1800s. The B&B is only a few years old, lovingly designed by Iolanda.
The rooms are large and fashionably appointed, with obviously a lot of forethought into every detail, large or small. The A/C works well (which is important when it is over 100F outside), the terrace offers sweeping views of Erice and the sea far below, and breakfast is a treat, with Iolanda providing accurate local advice on what to see and how to get there.
That is only half the story, however. Alberto runs an olive oil business downstairs, where they produce bottles for consumption all over Italy from locally-grown olives. Yum!
If you find yourself in western Sicily, trying to decide on a place to stay between the beauty and history of Erice, the wild sandy beaches of St. Vito, and the cosmopolitan spirit of Tripani, consider a stay at Al Frantoio and take in a little small town Sicily at the same time.
http://www.alfrantoiovalderice.it