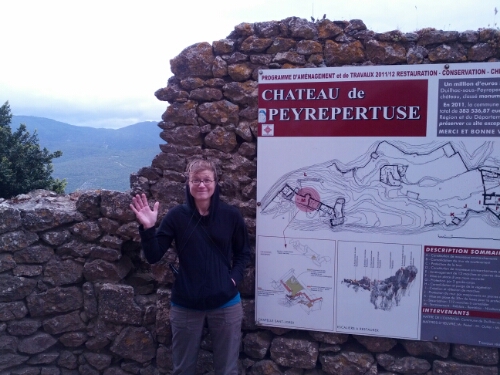 Katherine and I took the good advice from a friend and spent the day exploring various châteaus in the Hautes-Corbieres region of southwestern France.
There are châteaus spread throughout the mountainous area south of Carcassonne, which gained fame in the time of the Cathar religious sect of the 13th century and were fortified by French kings, when this area was part of the border with Spain.
We particularly enjoyed climbing to the top of the Château de Peyrepertuse, near the village of Duilhac. The wind blew fierce and cold, but we braved the elements to take in the unparalleled views that stretched nearly to Spain.
Tonight, we are staying in Aix-en-Provence, preparing to take possession of a small farmhouse on the outskirts of a Provence village. Here's hoping the renter's English is better than our French!