Where the Vatican gets you, so far as money is concerned, is the Sistine Chapel. I would estimate that the Sistine Chapel is, easily, the thing most people want to see in Vatican City, as it has images that some of the most beautiful and recognizable among any in Rome. I mean, that ceiling is something else, and the folks that run Catholicism aren't stupid. They know a revenue opportunity when they see one.
So, what did they do? Well, even though the Sistine Chapel and St. Peter's Basilica are right beside one another, they've set up a system where you have to enter the Vatican Museum to see the Sistine Chapel, and it costs 14 euro per person to enter the Vatican Museum. Also, because you are so far from the Sistine Chapel once you enter the Vatican Museum, you have to walk half-way across Vatican City, twice, to get back and forth from the Sistine Chapel.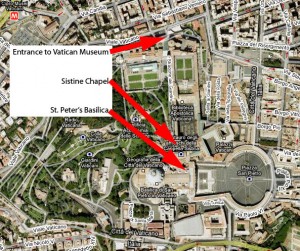 What's the good news? Well, for one, it's worth it. Also, while you are trapped in the Vatican museum, the other exhibits are pretty good and worth seeing, and the cafeteria isn't a rip off. All in all, it is still a must-do when you are in the area, but just try to put all the pointless walking out of your mind. At least you are walking down beautiful (but extremely long) corridors that look like this: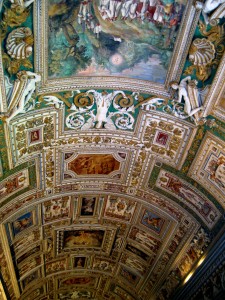 Once you get to the Sistine Chapel, the hallway narrows and you have to kinda squeeze through a little door to make it inside. Once there, you aren't supposed to (1) say anything or (2) take pictures. However, everyone there (and it is usually standing room only) is doing both of those things, just about has loud and fast as they can.
The tourist-factor aside, the ceiling and walls (and just general architecture of the place) are amazing.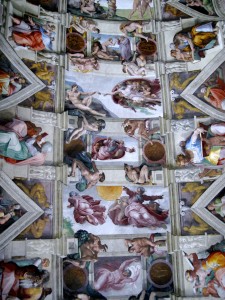 We visited in 2009, a few years beyond a reconditioning of Michelangelo's masterpiece, and the colors were so vibrant, so alive, the painting really spoke to you, even with the tourist throng all around and the ushers coming in ever few minutes and yelling, "Silencio!"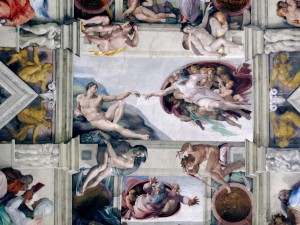 The paintings extend down to the walls from the ceiling, with some characters in one painting bleeding over into another scene. The optical illusions must have taken years to perfect.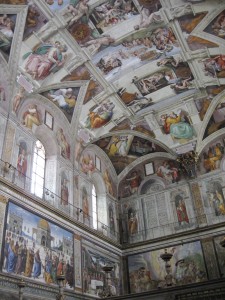 Outside, we found one of those wonderful, free, clean water spigots that are located all over Rome. While most folks just filled up their water bottles, I drank the cool water straight from the source. Yum!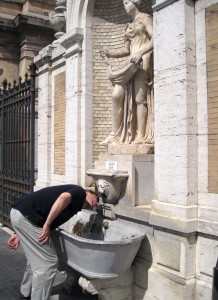 We went to several very good exhibits and ate lunch there, and finally, we were ready to move on and see some more of Rome. The stairs as you leave the Vatican Museum were a final treat though. Quite trippy going down…
I really enjoyed the figurines on the stairwell railing.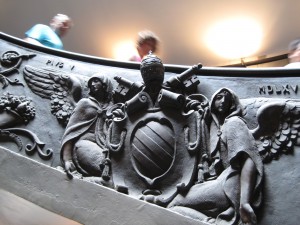 Next up, we headed back into Rome and across the city.