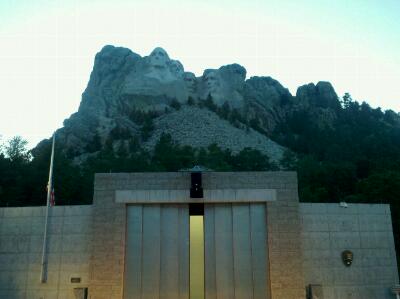 After catching up on some sleep this morning, we took the back roads up to Sturgis from Rapid City, ahead of the many thousands of bikers that will take over the place a few weeks from now. Frankly, you might think that the rally was going on now, given the sheer number of bikes in the region. Motorcycles are everywhere here, and I love it! (It's like Memphis with SUVs.)
Deadwood was a bit of a bust, unless you like the tightest slots you've ever seen and a manicured Disney-esque Main Street. It is likely that Wild Bill would just keep on going through town, if he was passing through today.
Custer State Park proved to be the highlight of the day, providing the best collection of the different ecosystems of the Black Hills, as well as grazing bison and other animals plus easy ways to get away from the throngs of people stopping to look at animals.
We attended the nightly lighting event at Mount Rushmore, which was meaningful, but I've definitely taken my patriot pill for the month.