Near the Vatican is impressive Castel Sant' Angelo, which has been a castle, fortress, and prison for various popes over the years. The Ponte Sant' Angelo in front of the castle is a beautiful bridge, full of very statues in dramatic poses.
We stumbled across the city, bouncing from gelateria to shoe store, eventually ending up at the Pantheon, which is one of the most impressive structures I've ever been in. Most impressive is the concrete dome, poured in place with scaffolding, which is one of the first uses of concrete and definitely one of the earliest examples of concrete that still exists and is useful today, more than 1900 years after it was built.
Even Kath was impressed…
After seeing the sights in the Pantheon, I went outside to rest and soon heard a commotion nearby. Thinking that someone may have been hit by a car, Kath and I joined the crowd streaming that direction. Instead of a traffic accident, we got a picture of Prime Minister Berlusconi emerging from a gelateria with a big cone full of the good stuff, looking very happy and flanked by a dozen security guards that melted into their vehicles when it was time to speed away.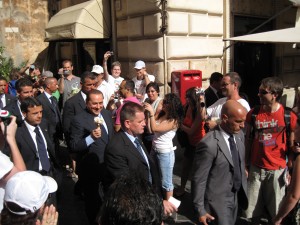 To make sure that we come back to Rome, we had to make a final stop at the tourist mecca, the Trevi Fountain. Kath drew the short straw and got picked to throw the coin over her shoulder in the fountain, which is a tradition that is supposed to bring you back to Rome at some point in the future. It was quick and painless, and we got out of there.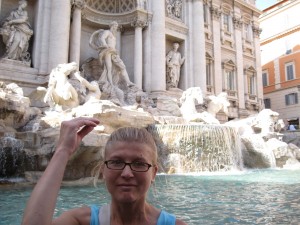 Rome was much more than I was expecting, and the trip, as a whole, was even more enjoyable than I could have hoped for. We had a blast, and I hope to return to Italy someday and explore another set of niches of the country, such as Sicily, Lake Como, Cinque Terre, or Milan.