We were sure Rome was going to be a pain. Almost every large city we've ever visited while traveling seems to pull more out of you than it puts back. Our goal was to just to try to have a decent time in Rome during the 2 days we had there and try to see some highlights at the end of our trip, before heading back to the States. Our stay in Rome turned out to be a lot more enjoyable than we imagined, and a lot of that was due to the centrality and comfort provided by the place we stayed: Hotel Assisi [Google map].
After all, when you imagine being in Rome, you might imagine hanging out at the Colosseum.
However, finding a place to stay near the Colosseum, one that is also comfortable and safe and offers good links to travel beyond the city, well, you have options, but it can be difficult to figure out which one to choose. We went with Hotel Assisi, which received several good reviews online and is a relative bargain at 80€ per night for a double. Is is also located only a couple of blocks from the central train station in Rome, Termini, and easy access to the metro.
On the downside, I saw this random scene from the remains of a very localized Vespa fire a block away from Hotel Assisi and Termini, so it isn't clear how safe your vehicle would be if you parked it in the area.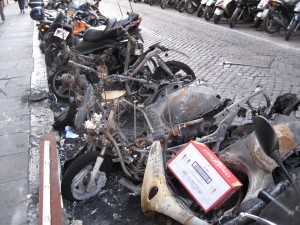 The lobby of Hotel Assisi is where you enjoy the excellent complementary breakfast (feature all of the espresso you can drink!) and a good (if charged per hour) wifi connection. There is also lounge area with some entertaining ancient tourism videotapes of Rome from the 1970s. Don't miss those!
Our only complaint is that our room's fan made a lot of noise (which the management fixed after we told them about it) and the air conditioner in the room didn't really work to cool it (and there was no way to turn it up or change the settings – which left the room pretty hot). However, the neighborhood around Hotel Assisi is pretty quiet, so we slept well with the windows open.
The bathroom was pretty small but very clean and adequate. There are two competing and excellent Italian restaurants just outside the front door of Hotel Assisi, so getting a good meal at a decent price, even late, is pretty easy. The reception was cordial and helpful, offering advice about the best sites to see (and order to see them in, based on our time limits), as well as providing options concerning getting to the airport (which is pretty easy from the train station – there is a special train that runs every half-hour that takes you there).
All in all, Hotel Assisi was a good deal for the money. You could do a lot worse.
Contact Information:
Hotel Assisi
http://www.hotelassisiroma.it
info@hotelassisiroma.it
Via dei Mille, 29
00185 Roma, Italy
(39) 06 445 3813